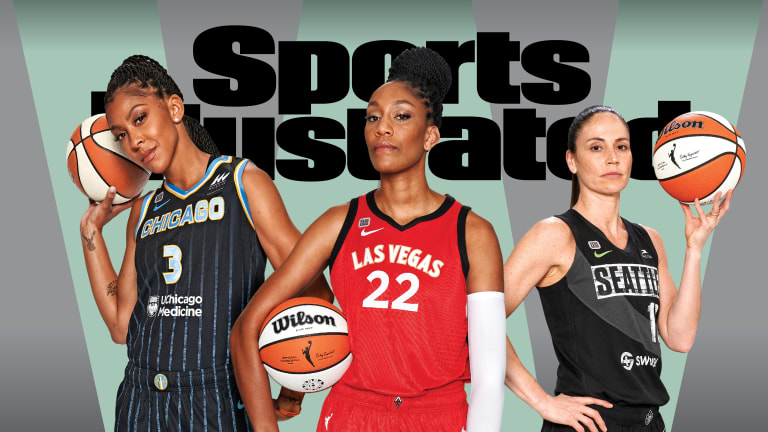 June Sports Illustrated Issue Honors the WNBA's Milestone Season
Inside this issue: The cultural footprint of the 25th WNBA season; Chris Mannix on the Utah Jazz's resurgence; The historic 1984 L.A. Olympics; and more
NEW YORK — The WNBA carries serious momentum into its 25th anniversary season, which tips off this week. Now it's time to take stock of where the league is, how it can grow its economic and cultural footprint – and how it's being held back by forces that have nothing to do with the WNBA or its players. Contributing writer Kate Fagan has the story in Sports Illustrated's June issue, available online today and on newsstands May 20. Also in this issue, quarterback Alex Smith ends on his terms with senior writer Greg Bishop, Mark Bechtel on the NBA's program to mold the game's emerging stars, Rohan Nadkarni on the trade that saved Caris LeVert's life, and more.
On the Cover
Last year's bubble season drew record TV ratings and a wave of positive public relations for WNBA players' social activism. Contributing writer Kate Fagan has the story on the WNBA at 25: where it's been, where it's going, and why the reasons some mainstream sports fans (and marketers and media) don't buy in are flawed. The cover features reigning league MVP A'ja Wilson, reigning champion Sue Bird, and reigning Defensive Player of the Year Candace Parker.
May Issue Features
Smoothed Jazz: A year ago, the Utah Jazz were fraying at the start of the pandemic. Senior writer Chris Mannix revisits intense scrutiny of the team and how spending time in the bubble helped bring them together. With a few roster changes this season, Utah is a major contender in the Western Conference playoffs.
Healed Enough to Walk Away: Alex Smith nearly lost his leg, maybe even his life, in a brutal injury three years ago. Now the quarterback looks back with senior writer Greg Bishop on the strength that allowed him to get back on the field last season – and why, after all that, he decided he'd healed enough to walk away from football.
The Cradle of Pitchers: Vanderbilt has become college baseball's premier pitching factory – eight alums were on MLB Opening Day rosters this season. Even by Vandy's standards, this season is special: right-handers Kumar Rocker and Jack Leiter are mowing down SEC hitters and likely to make history this summer, with a chance to be the first teammates to go 1 and 2 in the MLB draft.
L.A. Changed the Olympic Games: As the Tokyo Olympics approach, it's worth noting that much of what we'll see there – from the tech-heavy experience to the marketing campaigns to the dominance of female athletes – has an origin story in another historic Olympics: the 1984 L.A. Games. Jon Wertheim examines the creation of modern Olympics and pays tribute to an icon five years after his death, who debuted Purple Rain before opening ceremonies, Prince.
Also in this issue:
Leading Off: SI went behind the scenes of Mater Dei vs. St. John Bosco, two top high school football programs which featured more than 50 athletes with offers to play for Football Bowl Subdivision schools.
Scorecard: Steve Rushin explores the asterisk in the faults in our tiny, little Sports Stars, from Roger Maris's disputed home run chase 60 years ago to now, a year begging to be put into context.
Scorecard Newsmakers: The Pacers' Caris Levert, and the January trade and routine medical exam that may have saved his life by Rohan Nadkarni.
Scorecard Mentors: Mark Bechtel on the NBA court of leaders mentoring the game's next generation – before they get to the league.
Gameplan: A Hulu documentary review of Changing the Game by Julie Kliegman on teenage transgender athletes, an unpredictable mainstay of the 2021 U.S. news cycle.
SI Full Frame: Mark Fidrych, the American League hitter whose long arms and curly hair earned him the nickname Bird with Big Bird 45 years later.
Faces in the Crowd: The first American to qualify for karate, the sport making its debut at the 2021 Olympics, Sakura Kokumai.
To schedule a broadcast or print interview, contact SI at media@maven.io.
About Sports Illustrated
Sports Illustrated (SI) is an unparalleled and influential leader recognized for its role in shaping modern culture and uniting athletes, teams and fans worldwide. We bring powerful storytelling to life through world-class live events, immersive experiences, and lifestyle products. SI's award-winning media enterprise captures moments and turns them into history through rich and thoughtful journalism, iconic and beloved photography, and across digital platforms ranging from Emmy-winning video to an ever-expanding social community.
About Maven
Maven is a technology platform empowering premium publishers who impact, inform, educate and entertain. Maven operates Sports Illustrated Media and TheStreet and powers more than 150 online destinations, including History and Biography.