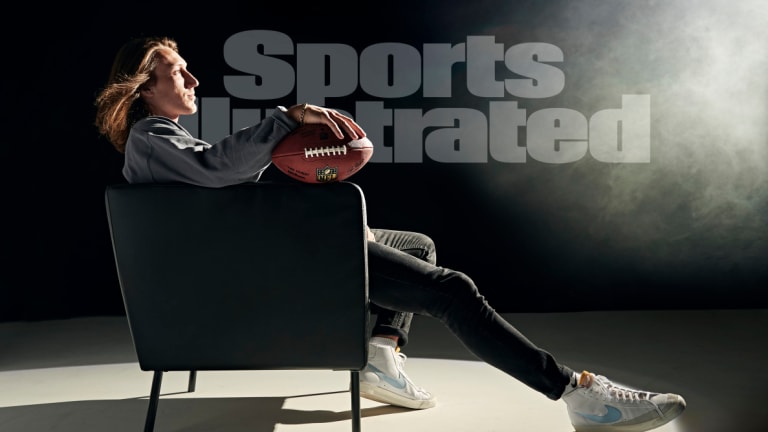 Trevor Lawrence Is Predestined For His NFL Moment
Inside this issue: The numerical curiosity of basketball's triple-double; Tokyo Olympics buzz and dissent; the busiest arms in baseball; and more
NEW YORK — In Sports Illustrated's May issue -- available online and on newsstands Thursday Apr. 22. -- Michael Rosenberg interviews Trevor Lawrence, the best quarterback to come into the NFL draft in nearly a decade. Seemingly predestined for this moment since he was a little kid, Lawrence brings a novel outlook to the NFL – football is his passion, but not his identity. Also in this issue: Ryan Lochte tries to recapture Olympic glory, Dikembe Motumbo's coffee adventure, and Jon Wertheim's investigation of the forty-year mystery surrounding the death of Triple Crown winner Pleasant Colony's veterinarian.
On the Cover
There is not much drama at the top of the NFL Draft – the extremely centered superstar quarterback and May cover star Trevor Lawrence is going No. 1. In the May issue, senior writer Michael Rosenberg explores Lawrence's key to success – a conviction that there is more to life than football – and why the NFL might need Trevor Lawrence more than Trevor Lawrence needs the NFL.
May Issue Features
The Triple-Double: Alex Prewitt examines the love and lore of basketball's box score holy grail. It is a cool statistical oddity, an alleged marker of greatness, and players will go to ridiculous lengths to get one. But really, what's so special about the triple-double?
Ryan Lochte's Return: Ryan Lochte, the second-most-decorated men's swimmer in Olympic history, rose fast to the top of the swimming world. He fell even faster – his career derailed by doping suspensions, scandal and some bizarre behavior at the 2016 Rio Games. At age 36, Lochte is training for a long-shot spot on this year's Olympic team. Contributing writer Brian Burnsed explains how glory in Tokyo will change everything for Lochte.
The Unsung Heroes: Everyone in the majors throws gas these days, but some of the most valuable arms in baseball belong to middle-aged lifers who throw 60-mile-an-hour meatballs, day after day after day. Michael McKnight explores the world of batting practice pitchers, the unsung heroes who help keep their teams' sluggers in the zone.
Jewel of the Crown: Forty years ago this spring, Pleasant Colony won horse racing's Triple Crown. But a pall hangs over what should be an uplifting memory of triumph and achievement: the enduring mystery surrounding the violent end of Janice Runkle, the veterinarian who was found dead on the shore of Lake Michigan a few months after she helped the horse run to glory. SI True Crime reporting by Jon Wertheim.
Also in this issue:
Leading Off: Three unique photos chart all the places an NBA player goes during a game: Full games of Russell Westbrook, Ja Morant and Luka Doncic captured in single images.
Scorecard: Kenji Hall's Letter from Tokyo, on fruitless protests and the public's disappointment over the country's insistence on hosting the Olympics this year.
Gameplan: Reimagining classic baseball cards with an artist's scary spin from Mark Bechtel.
SI Full Frame: Photographer Erick Rasco remembers his classic American Pharoah Triple Crown shot.
Where Are They Now: Former NBA star Dikembe Mutombo, now a coffee mogul and international man of philanthropy, profiled by Justin Barrasso.
Stephanie Apstein writes on Jose Altuve's battle with baseball's y-word (the yips).
To schedule a broadcast or print interview, contact SI at media@maven.io.
About Sports Illustrated
Sports Illustrated (SI) is an unparalleled and influential leader recognized for its role in shaping modern culture and uniting athletes, teams and fans worldwide. We bring powerful storytelling to life through world-class live events, immersive experiences, and lifestyle products. SI's award-winning media enterprise captures moments and turns them into history through rich and thoughtful journalism, iconic and beloved photography, and across digital platforms ranging from Emmy-winning video to an ever-expanding social community.
About Maven
Maven is a technology platform empowering premium publishers who impact, inform, educate and entertain. Maven operates Sports Illustrated Media and TheStreet, and powers more than 150 online destinations including History, Maxim, and Biography.