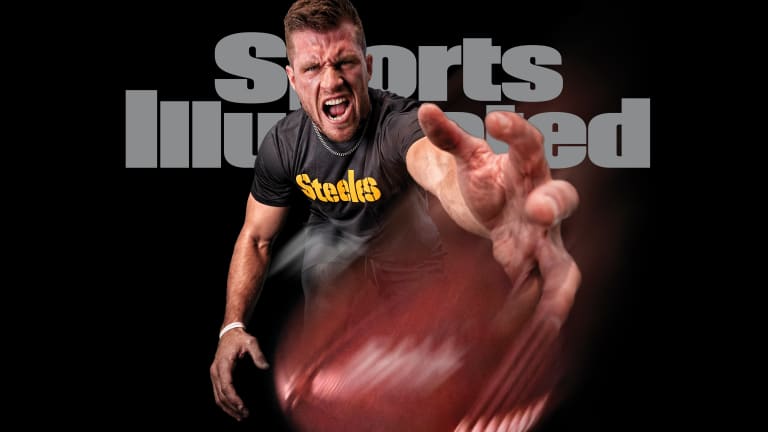 Pittsburgh Steelers' T.J. Watt Earns Sports Illustrated Cover as NFL's Top Takeaway Artist
October issue also includes outstanding reporting and insight on the future of the NCAA; tragedy in the USC family; and much more
NEW YORK -- Pittsburgh Steelers linebacker T.J. Watt is featured on Sports Illustrated's October 2020 cover as part of an in-depth story by senior writer Jenny Vrentas on turnovers in the NFL and how their increasing rarity puts a premium on uniquely talented players such as Watt.
The digital issue with multimedia content is available online Oct. 1. The print edition hits newsstands and ships to subscribers on Oct. 5.
On the Cover:
The key to NFL success is simple: turnovers. The team with the most almost always wins and as a result, interceptions and fumbles are rarer than ever. This makes Steelers linebacker T.J. Watt exceptionally valuable: no one in the NFL is better at forcing a turnover than Watt. His cover photo was shot exclusively by SI on Sept. 15. With T.J.'s appearance the Watt family joins a unique club: siblings who have appeared on the SI cover art different times. T.J.'s older brother J.J Watt of the Houston Texans has been on the cover multiple times. The list of SI sibling appearances includes Serena and Venus Williams, Eli and Peyton Manning, Pedro and Ramon Martinez and more.
Also in SI's October issue:
The Masters' Opportunity. Augusta National has always prided itself as a place where time stands still. But nothing is normal about this year's November Masters. Michael Rosenberg illustrates how golf's most hallowed event has a unique opportunity to evolve.
The mask debate. While a hot-button issue now, it's nothing new in sports. NHL goalies were once shamed for covering up in the name of safety. Steve Rushin explores the history of mask appeal in sports.
Fernando Tatis Jr.'s fun revolution. "Fun" is not a word anyone will associate with 2020, unless the topic is the San Diego Padres' Fernando Tatis Jr. Emma Baccellieri shares how Tatis Jr. turned a shortened season into a joyful celebration of his talent, disregarding the MLB's stodgy culture.
The future of the NCAA. The lawyer who helped retired NFL players reach a concussion class-action settlement with the league has a new target and a new strategy: take on college football over the same issue with a blizzard of individual cases. Jason Schwartz explores how the future of the NCAA could be at stake.
USC's Tragic Linebacking Corps of 1989. The Trojans had 12 linebackers on its 1989 depth chart, each leaning into what seemed to be the limitless future football could provide. Now five of those men -- including NFL legend Junior Seau -- are dead, all before the age of 50 and all after seeming to suffer physical, mental, and emotional deteriorations consistent with CTE. Michael Rosenberg tells how football brought a group of men together, and over time may have broken them down.
Also in this Issue
• Leading Off: While most of us have experienced the return of sports through a screen, a few fans have had coveted in-person moments this fall. From Wrigley Field to Oklahoma to West Point, they share a view of an unprecedented spectator experience.
• Scorecard: Tom Verducci reflects on the 25th anniversary of the classic Mariners-Yankees Division Series. All it did was save baseball in Seattle, help create the New York dynasty, and convince fans that the wild card was good for baseball after all.
• Gameplan: Reviewing "A Most Beautiful Thing," a heartening documentary about an all-Black high school rowing club on Chicago's West Side.
• Q&A: A conversation with Jason Sudeikis, star of "Ted Lasso".
• SI Edge: Brazilian skateboard star and Olympic hopeful Leticia Bufoni
• SI Full Frame: Surfing under California's ominous smoke-hued skies
• Point After: A photo tribute to Bryson Decambeau, who won his first major at golf's US Open and kicked off the championship season of the unique 2020 sports calendar.
Learn more about these stories from the renowned SI reporters and experts. SI journalists and editors are available to share their insight, experience, knowledge, and background details on their pieces. To schedule a broadcast or print interview with any of SI's reporters or editors, contact SI at press@maven.io.
About Sports Illustrated
Sports Illustrated (SI) is an unparalleled and influential leader recognized for its role in shaping modern culture and uniting athletes, teams and fans from all over the world. Powerful storytelling is brought to life through world-class live events, immersive experiences, and lifestyle products. Its award-winning media enterprise captures moments and turns them into history through rich and thoughtful journalism, iconic and beloved photography, and across digital platforms ranging from Emmy-winning video to an ever-expanding social community.
Media Inquiries: press@maven.io