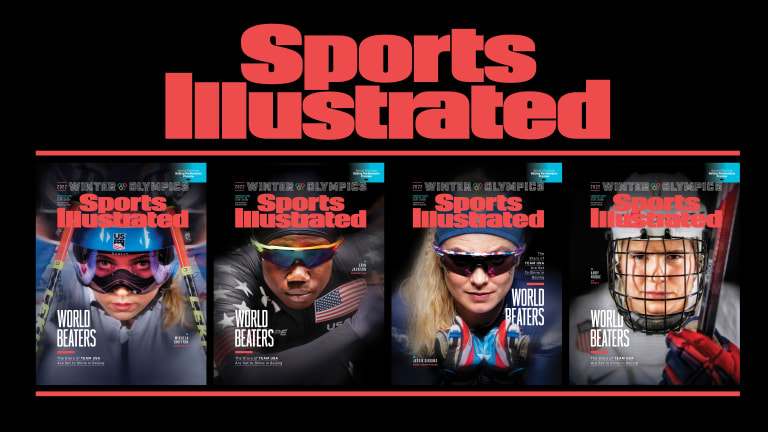 Four Women Represent a Talented Team USA On Cover Of Sports Illustrated Winter Olympics Preview Issue
Inside the Winter Olympics Preview Issue: Get to know the names and faces who will become familiar in Beijing, plus everything you've wondered about the Winter Olympics; Paralympics' Andrew Kurka and Declan Farmer chasing gold; Life after 7'6" for NBA's Shawn Bradley; The unfair aftermath of the Varsity Blues college admissions scandal; Why Hollywood and the Super Bowl are a natural fit; and more
NEW YORK — Team USA has one of its strongest Winter Games lineups ever, led by four women representing the full range of talent and experience: downhill skiing's GOAT (Mikaela Shiffrin), the U.S.'s only cross-country skiing gold medalist ever (Jessie Diggins), and two up-and-coming stars (speedskater Erin Jackson, hockey player Abby Roque). Sports Illustrated exclusively shot these top medal contenders for the Winter Olympics Preview issue, on sale now and available for purchase online. Also in the magazine, Jon Wertheim on Operation Varsity Blues, the 2019 college admissions bribery scandal, 7'6'' Shawn Bradley wrestles with his new life in a wheelchair, an excerpt from Chris Herring's new book on how it all went wrong for the Knicks one night in the 1994 NBA Finals, and much more.
On the Cover:
Mikaela Shiffrin is still dealing with the death of her father and the crushing weight of expectations—so the dominant skier of her generation has recalibrated her idea of Olympic success heading into Beijing, according to Stephanie Apstein. Speedskater Erin Jackson began transitioning from inline to ice skating just five years ago, but she's already primed to make a run at a gold medal in Beijing. Michael Rosenberg covers Jessie Diggins' return to the Olympic stage after a history-making 2021 season, followed by her winning Team USA's first Olympic medal in cross-country skiing in 2018. U.S. hockey's Abby Roque, profiled by Alex Prewitt, leads a new generation's quest for glory while breaking new ground in her sport as an Indigenous player.
Winter Olympic Preview Issue Features
Everything You Wanted To Know About The Olympics But Were Afraid To Ask: How do you ski in a country with little natural snow? How do figure skaters choose their music? Will the Super Bowl and Olympics overlap? SI answers the burning questions going into Beijing.
Paralympics Preview: Reigning downhill skiing gold medalist Andrew Kurka is finding even more success by learning to slow down his full-tilt attacks on the slopes, says Michael Rosenberg. Plus, sled hockey star Declan Farmer leads the U.S.'s chase for a fourth straight gold medal.
Team Peterson Curling: Two sisters and their teammates have a good chance at earning the U.S.'s first Olympic medal in the women's curling competition. With the skip – or most important job on the team – changing hands, plus a COVID-inflicted offseason, the crew's communication remains steadfast and ready for Beijing.
Other Issue Features
Production Values: The Super Bowl returns to Los Angeles this year for the first time in nearly three decades – but the NFL never really stopped going Hollywood. Inside the fun, sometimes cringey and occasionally box office-friendly history of the crossover between two cultural behemoths: professional football and the movies by Chris Nashawaty.
Next Serve: Jon Wertheim goes inside the story of a former University of Texas tennis coach who helped a student get into school with a fake recruiting profile and accepted a bag of cash for doing it. Michael Center knows why he got punished for his role in the notorious Varsity Blues college admission scandal. But, he can't figure out why the system that created it got off.
Tall Order: Last year, former NBA standout Shawn Bradley was paralyzed in a bicycle accident. Now confined to a wheelchair, Brian Burnsed details how he's finding the 7'6'' frame that brought him fame and fortune presents a challenge without medical precedent.
Houston, We Have a Problem: The Knicks NBA title drought isn't likely to end this year – but it might be a lot shorter if not for a nightmare performance by John Starks in the 1994 Finals. In an excerpt from his new book, Blood In The Garden, Chris Herring goes inside one of the most excruciating Finals meltdowns in NBA history.
Also in this issue:
Looking back at three iconic Super Bowl plays with alternate angles and hidden details from SI photographers – crazy catches by David Tyree and Santonio Holmes, plus Kevin Dyson's failure to reach for the goal line.
Alex Prewitt on the awkwardness of Olympic athletes from Hong Kong competing in Beijing.
Rise, a new book from Lindsey Vonn, reviewed by Mark Bechtel.
Tess Demeyer on elite NCAA gymnastics floor routines tapping into popular culture.
Ben Pickman on the arrival of online legal sports betting in New York state.
Faces in the Crowd: Paralympian Batoyun Uranchimeg represents Team USA Wheelchair Curling after emigrating from Mongolia; Dana Rettke for Volleyball and Amir Anderson for Boxing.
Subscribe to Sports Illustrated today or purchase single issues for sale at SI.com.
Media Contact: comms@thearenagroup.net
About Sports Illustrated
Sports Illustrated (SI) is an unparalleled and influential leader recognized for shaping modern culture and uniting athletes, teams and fans worldwide. SI's award-winning media enterprise brings powerful storytelling to life across platforms ranging from Emmy-winning video to the monthly print magazine with a 67-year heritage. Get in-depth features, probing profiles, and iconic and beloved photography from the best writers and photojournalists in the game at SI.com. In July, the American Society of Magazine Editors announced that SI won Best Sports and Fitness Cover in their 2021 contest with "Empty Arena."
About The Arena Group
The Arena Group creates robust digital destinations that delight consumers with powerful journalism, news about the things they love – their favorite sports teams, advice on investing, the inside scoop on personal finance, and the latest on lifestyle essentials. With powerful technology, editorial expertise, data management and marketing savvy, the transformative company enables brands like Sports Illustrated and TheStreet to deliver highly relevant content and experiences that consumers love. To learn more, visit www.thearenagroup.net.