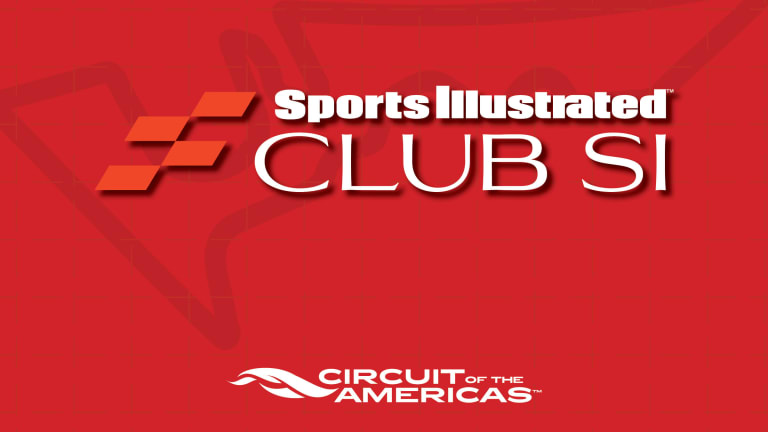 Circuit of The Americas Announces Partnership with Sports Illustrated to Launch Club SI
Sports Illustrated Captures the Thrill and Excitement of Austin's Big Race Weekend
Circuit of The Americas (COTA) and Sports Illustrated announced a new partnership and unveiled plans for the launch of Club SI. An upscale and unforgettable experience, Club SI at COTA will feature appearances from celebrity guests and tastemakers, live music, a posh party atmosphere, and buzzworthy photo opportunities. Club SI at COTA will combine the fun of a trackside day party with the sophistication of a premium nightclub, allowing fans to experience The Big Race like never before.
Club SI is slated to debut at COTA in Austin, TX from October 22-24, steps away from The Big Race.
COTA is the premier destination for world-class motorsports and entertainment in the United States and has hosted the biggest names in racing, action sports, and music since 2012. Located directly off turn twelve with a 360-degree view of the track, Club SI will bring fans into the heart of the action. The Club SI experience will include dynamic displays and screens surrounding the space, offers premium cocktails and gourmet cuisine, live music, and will be host to A-list celebrities.
"Nobody does motorsport entertainment like COTA, and we are thrilled to join forces for Club SI," said Marc Rosen, President – Entertainment at Authentic Brands Group and ABG Entertainment. "Fans will not only have the best seat in the house at Club SI but will enjoy a once-in-a-lifetime, elevated experience that combines the excitement of Sports Illustrated with the thrill of racing."
"We're excited that Sports Illustrated has chosen to bring their brand to COTA and this year's Grand Prix," said Bobby Epstein, Chairman of Circuit of The Americas. "Sports Illustrated has a long history of successfully integrating athletes, celebrities and entertainment to create memorable and high-end experiences."
Club SI is produced by ABG Entertainment and Circuit of The Americas. 
About Sports Illustrated
Sports Illustrated (SI) is an unparalleled and influential leader recognized for shaping modern culture and uniting athletes, teams, and fans worldwide. SI's award-winning media enterprise brings powerful storytelling to life across platforms ranging from Emmy-winning video to the monthly print magazine with a 60-year heritage. Get in-depth features, probing profiles, and iconic and beloved photography from top sportswriters in the game at SI.com. Sports Illustrated also shares its unique and authentic perspective year-round through marquee events, immersive activations, long-form television, film, and audio content as well as select lifestyle products. Brand extensions include Sports Illustrated Swimsuit, which continues to set the cultural tone and evoke discussion about what defines beauty on a global scale, and Sports Illustrated Kids, a destination that connects kids ages eight and up through their passion for sports. 
About ABG Entertainment
ABG Entertainment offers unparalleled storytelling through long-form and short-form content, live event production, hospitality, and immersive experiences in collaboration with the world's most influential creators, distributors, brands, and artists. ABG Entertainment is a division of Authentic Brands Group, a global brand development, marketing, and entertainment company and owner of a portfolio of iconic and renowned brands.
For more information, visit authenticbrandsgroup.com
About Circuit of The Americas (COTA)
Experience the unfiltered thrill of being alive at Circuit of The Americas, in Austin, TX. Feel the rush of the world's greatest drivers competing in motorsport's biggest events. Get lost in the music of the hottest musical acts as they perform live at Austin's largest outdoor music venue. Take charge of your own 602 horsepower race car as part of our exciting driving experiences. Experience the thrill of racing others at the COTA Karting track. Inspire your most valuable stakeholders in our expansive meeting and hospitality spaces designed for large groups and private or corporate events. At Circuit of The Americas, there is fun at every turn.
For more information and to download videos and photos, visit www.thecircuit.com. For an experience as unique as Austin and a rush you'll never forget, visit Circuit of The Americas, where exhilaration happens!
Media Contacts: Michelle Ciciyasvili - ABG Entertainment & Sports Illustrated mciciyasvili@authenticbrands.com 646-380-5836
Courtney Knittel – Giant Noise (Circuit of The Americas) Courtney@giantnoise.com
Stephanie Brown – Giant Noise (Circuit of The Americas) Stephanie.Brown@giantnoise.com