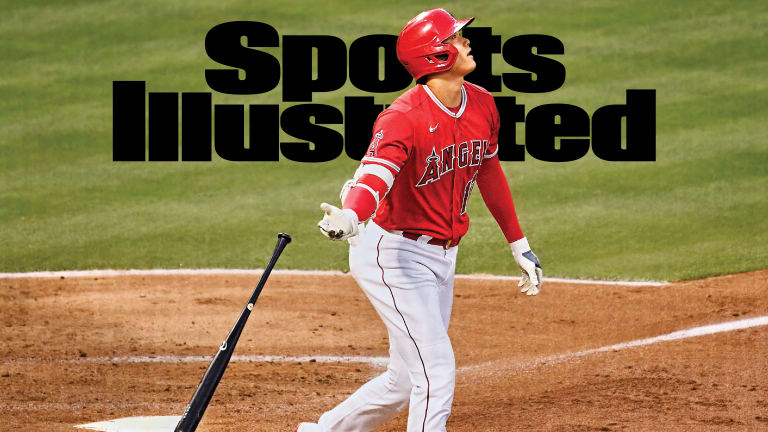 Two Sports Illustrated Covers for Shohei Ohtani; The Hitter & Pitcher
Inside the October issue: The artful pitching and majestic hitting of 'Sho-time'; Moments of truth with Paul Pierce; Training for the Beijing Winter Games, a few months away; Dustin Poirier's long and successful MMA career; and more
NEW YORK — He may be the game's best hitter and the best pitcher: Shohei Ohtani isn't the new Babe Ruth; he's something better than that. Senior Writer Tom Verducci takes a deep look at Ohtani's impact on the game and his two-way excellence dismantling baseball's rules of specialization. The October issue, with two covers featuring Ohtani, is available online today and on shelves on September 23. Also in this issue, off-snow summer training for the Beijing Winter Olympic Games, Chris Mannix's candid conversation with Paul Pierce, the elemental change in the way football is played from youth leagues to the NFL, and a profile by Jon Wertheim on the guy who took down Conor McGregor twice this year.
On the Cover
Regardless of what happens in October, Major League Baseball this year will be remembered as the Season of Shohei Ohtani, whose two-way performance has been nothing less than the most amazing year in baseball history. Tom Verducci examines Ohtani's unprecedented greatness and the many ways his approach is unorthodox in the modern game.
October Issue Features
Moments of Truth: Since retiring from the NBA, Paul Pierce has done and said pretty much what he's felt like doing and saying - even if it's caused controversy or cost him broadcasting jobs. Chris Mannix reports on the Celtics great, who has a message as he enters the Hall of Fame: He's not sorry.
Cool Summer: With the Tokyo Games in the books, the Olympic world's focus is on Beijing – the Winter Games are five months away. SI photographers checked in with three U.S. skiers – Mikaela Shiffrin, Jessie Diggins and Ashley Caldwell – for a look at their off-snow summer training.
Stance Strategy: Pass-heavy offenses and athletic, agile defenses, plus safety concerns, are causing football to evolve at its most basic level: at the line of scrimmage. Brian Burnsed writes that the game's most elemental pose may be dying out from Pop Warner all the way to the NFL – welcome to the last days of the three-point stance. Conor Orr explores the zone-run blocking scheme made popular by Kyle Shanahan as the envy of teams all over the NFL – but there's a shortage of coaches who can teach it.
The Good Fight: One of the UFC's biggest draws, Dustin Poirier, has taken down Conor McGregor twice this year. But fame and riches aren't the reasons why he's built a long, successful MMA career, a story from Jon Wertheim.
Also in this issue:
Greg Bishop on why 42-year-old Manny Pacquiao returned to the ring last month and what his loss means for his ambitions toward the Philippines presidency.
SI Full Frame: Looking back at a classic '70s shot of a dashing ping-pong hustler (you read that right).
Kristen Nelson on the sea creatures who dominated Seattle sports before the Kraken arrived: the city was once the center of a thriving octopus-wrestling scene.
Gameplan: reviewing former Steeler James Harrison's new acting role.
Point After: Marking 20 years since the 2001 World Series, a classic for many reasons.
Hidden Gems: America is full of sports wonders, and they extend far beyond the Fenways and Lambeaus that are on every fan's bucket list. SI toured the country to find off-the-beaten-path spots where the heartbeat of sports is strong.
Subscribe today for the best storytelling in sports or purchase single issues for sale. To schedule a broadcast or print interview, contact SI at media@maven.io.
About Sports Illustrated
Sports Illustrated (SI) is an unparalleled and influential leader recognized for shaping modern culture and uniting athletes, teams and fans worldwide. SI's award-winning media enterprise brings powerful storytelling to life across platforms ranging from Emmy-winning video to the monthly print magazine with a 67-year heritage. Get in-depth features, probing profiles, and iconic and beloved photography from the best writers and photojournalists in the game at SI.com. In July, the American Society of Magazine Editors announced that SI won Best Sports and Fitness Cover in their 2021 contest with "Empty Arena."
About Maven
Maven is a modern media company operating and powering premium media brands, including Sports Illustrated and TheStreet. Maven leverages superior technology, iconic brands, and marketing expertise to deliver highly relevant content and experiences that consumers love. To learn more, visit www.maven.io.